Property Management
We provide exceptional property management service, handing day-to-day operations so you can focus on your business.
We provide exceptional property management service, handling day-to-day operations so you can focus on your business.
Our property management philosophy is simple: We provide you with exceptional service so you do not have to get involved in the day-to-day operations of your properties. We assign only senior-level professionals who are trained experts who know the current market to deliver the best to your properties.
Our performance is linked to a three-step process:
Understand your business and property goals
Establish mutually agreed upon professional operating procedures
Develop a quality assurance plan to maximize efficiencies and asset returns
On income-related matters, our asset management team works with you to meet or exceed your strategic marketing plan goals.
Our management team of professionals represents many years of collective expertise in Northeast Ohio's commercial real estate community. With that experience comes a deep knowledge, a highly developed skill set and a clear understanding of managing properties, facilities and overseeing construction projects. Add to that mix an extensive background in historic preservation, government and nonprofit management, and you have a firm that is on the leading edge of the industry.
We manage one million square feet for our own account and more than one million square feet for third parties. We are known to be proactive, service-oriented managers who are fiscally responsible. Our experience runs from managing historic office buildings to industrial and retail facilities. 30 years of property management experience and strong systems coupled with skilled leadership in both the fieldwork and accounting make this group industry leaders in Northeast Ohio.
Playhouse Square
The Client
Playhouse Square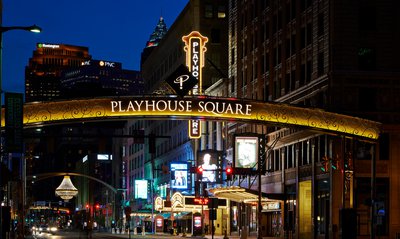 The Opportunity
Playhouse Square is the largest performing arts center in the country outside of New York, welcoming more than 1.2 million guests annually. Playhouse Square's goal was to take a leadership role in the development of its downtown district and create a vibrant neighborhood for the arts, business and residents.
In 1999, Playhouse Square hired Tim Luli to start a management group to perform property management services at the Hanna Building. Over the years, as opportunities became available, Playhouse Square expanded its office building portfolio.
Today we manage 867,290 square feet in five buildings for them. We perform the following services for their facilities:
Operational and day-to-day site management
Utility management
Financial management and reporting
Operational and capital budgeting
Administrative and personnel management
Construction management
The Results
We have contributed to the neighborhood by increasing the occupancy of the facilities, creating lasting tenant and community relationships while preserving the historic value of portfolio. The cash flow and return on initial investments have increased over time and the improvements have helped increase the appeal of the district.
Through our relationships with quality service providers, we have enhanced the bidding process, improved written service agreements, quality control of services as well as economies of scale in purchasing services and products. We provide organized, consistent financial statements and develop budgets to help lower direct and indirect costs.
Our focus remains on identifying opportunities for improvement, introducing new cost-savings ideas, maintaining quality facilities, and overseeing renovation projects with the goal of best meeting Playhouse Square's mission.
Learn More About Our Services
Whether you're looking for space or need real estate services, our team is ready to help.